________________________________________________________________________________________
"Superkilen, Winter Playground"
Superkilen Park in Copenhagen designed by Superflex, Bjarke Ingels Group, and Topotek1. The project is part of an urban improvement plan by City of Copenhagen and Realdania.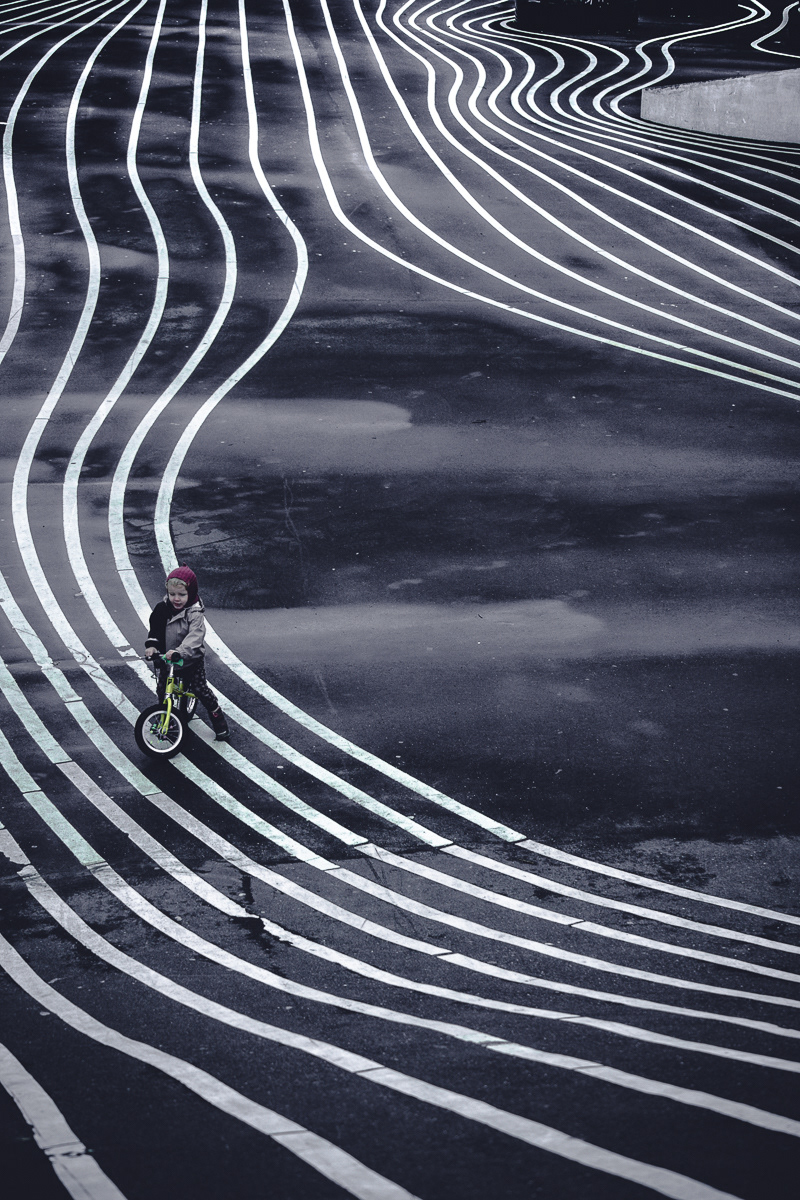 Location: Nørrebro district of Copenhagen, Denmark
Total Area: Linear 750m (2,460ft), 30,000m2 (320,000ft2)
Sphere of Influence: Urban Design, Landscape Architecture, Urban Park, Ecology
Programme: Urban renewal and development intended to increase the standard and celebrate the diversity of the neighborhood and to inspire other cities.
Multifunctional linear park that serves as public space for art, installations, exhibitions, play, joy, peace and solace.
Designed by:
Superflex, Bjarke Ingels Group, and Topotek1.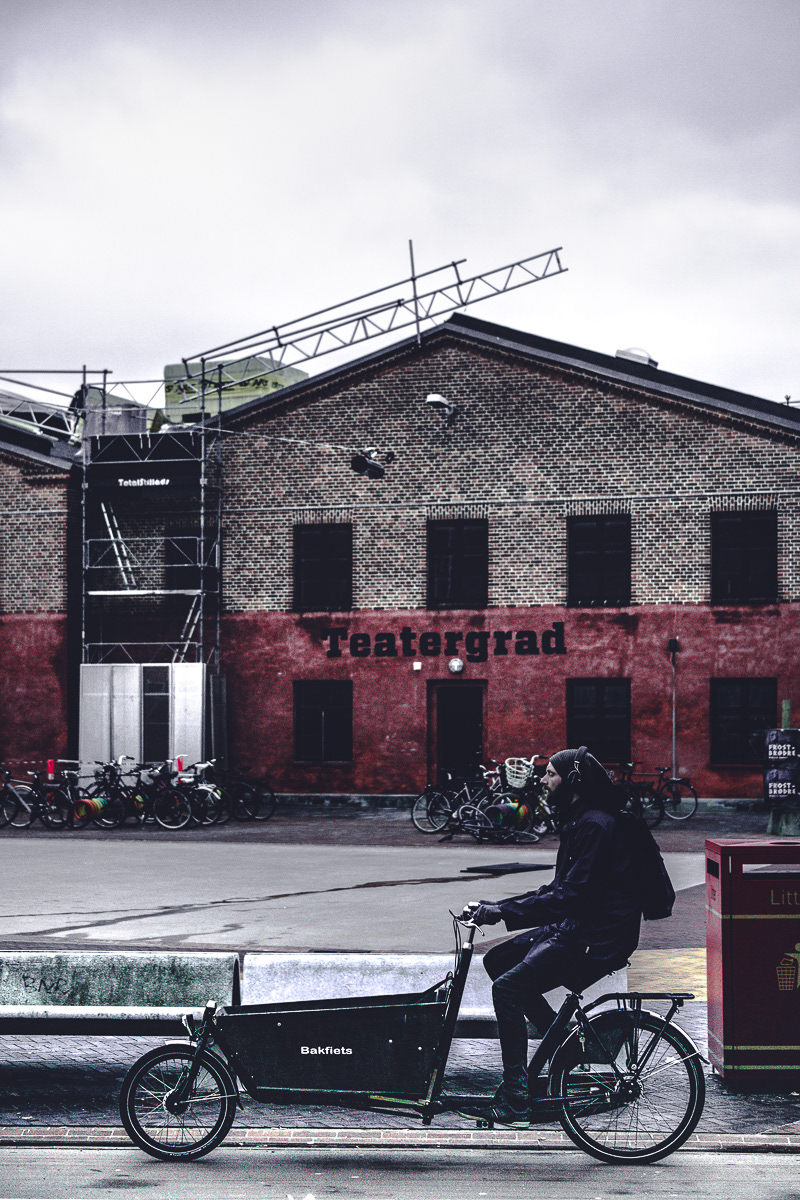 Linear Urban Park and Urban Development
On one of those cold and gray days here in Copenhagen I decided to hop on my cykel and head out to Nørrebro and see the Superkilen park.  I had visited a few times in the summer and I remember there were plenty of kids and families at this popular urban park. Today it was raining just a bit but I thought it might be worth seeing the park with less people and on a not so typical day. My bicycle was parked in front of the building so I had to remember where I left it amongst hundreds of others. Finally 
around mid day I took the "Grønne Sti", a green path weaving through the urban fabric, a once abandoned rail track that has been converted into a bi-directional bike path that conveniently cuts through a few neighborhoods in Copenhagen.  It's
 separated from the city streets so you don't have to worry about vehicular traffic for a good 25/30 minutes if you travel the full length. I'll be revisiting this amazing "rail to trail" project in another blog post. After 15 minutes I arrive to the beginning of the urban park called the "Red Square". This area is designed and intended to focus on recreation and modern living. It's a redefined public plaza meant to encourage an active approach to life.  As I continued along the integrated bike path the rain drops began to disappear and the clouds cleared up just a little.  I finally approached the "Black Square" with a fountain in the middle and an array of white stripes along the ground that weave and flow up and down these rolling hills. You get a sense of movement and a feeling of flight as you walk around.
Stretching some 750 meters (2,460 ft) along either side of a public cycle track and covering a total area of some 30,000 square meters (320,000 sq ft), Superkilen is made up of three main areas: a red square, a black market and a green park. While the red square, painted bright red, orange and pink, focuses on recreation and modern living, the black market at the centre is the classic square with a fountain where neighbors can meet, with its barbecue grills and palm trees from China. The green park, literally entirely green, has rolling hills, trees and plants suitable for picnics, sports and dog-walking
(https://en.wikipedia.org/wiki/Superkilen).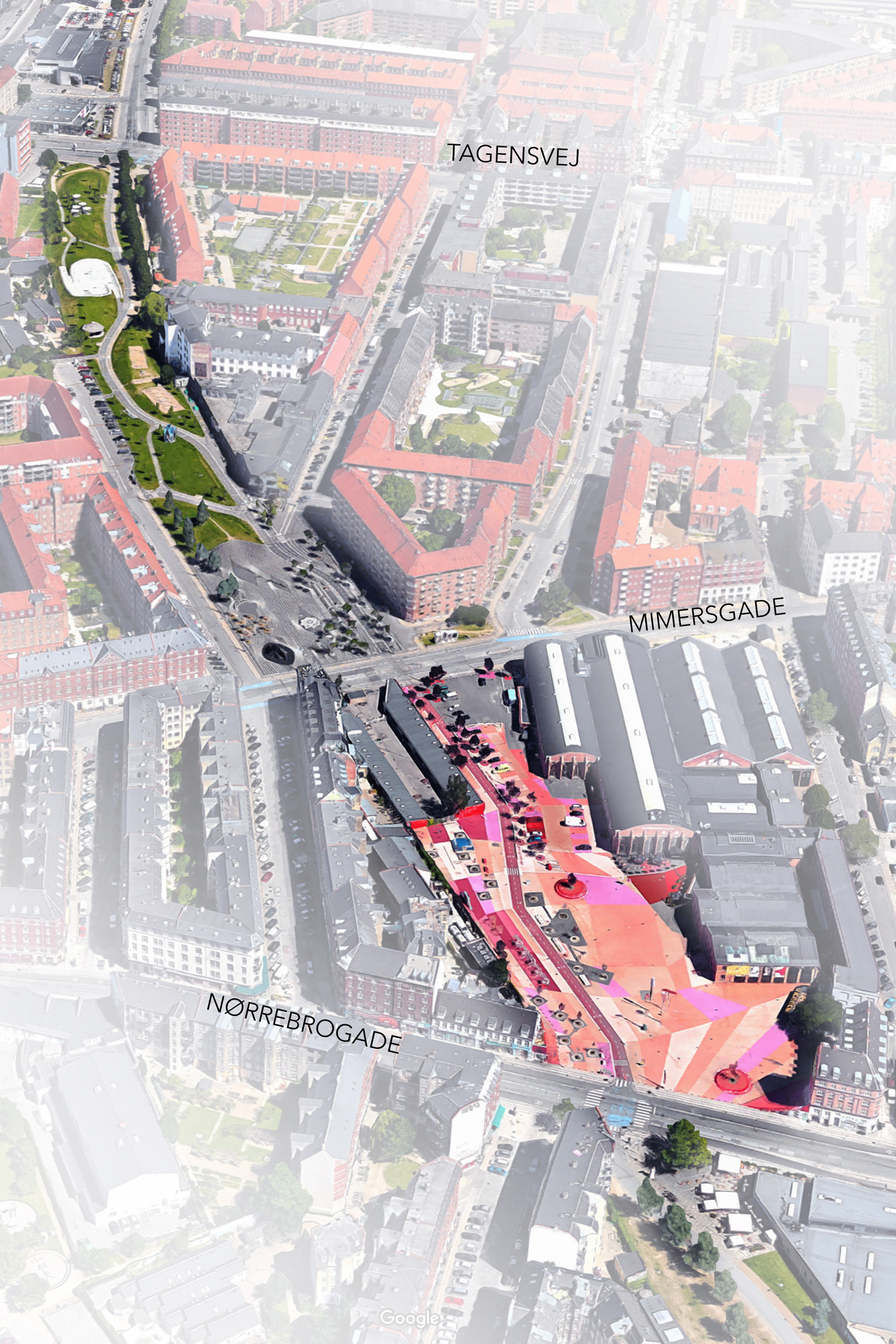 Aerials maps provided by Google Maps
Clouds were fading in the distance and there was a slight midst in the air form the drizzling rain. Water puddles created little pools of sky reflections on the asphalt. On dry days the asphalt is light gray and the stripes don't stand out as much as they do on a rainy day like this. Superkilen means a super wedge, weaving through the urban fabric and the white stripes are leading the way forward.
When the rain falls, the city is tucked in low hanging clouds that are in no hurry to drift away and sometimes linger for days. 
​​​​​​​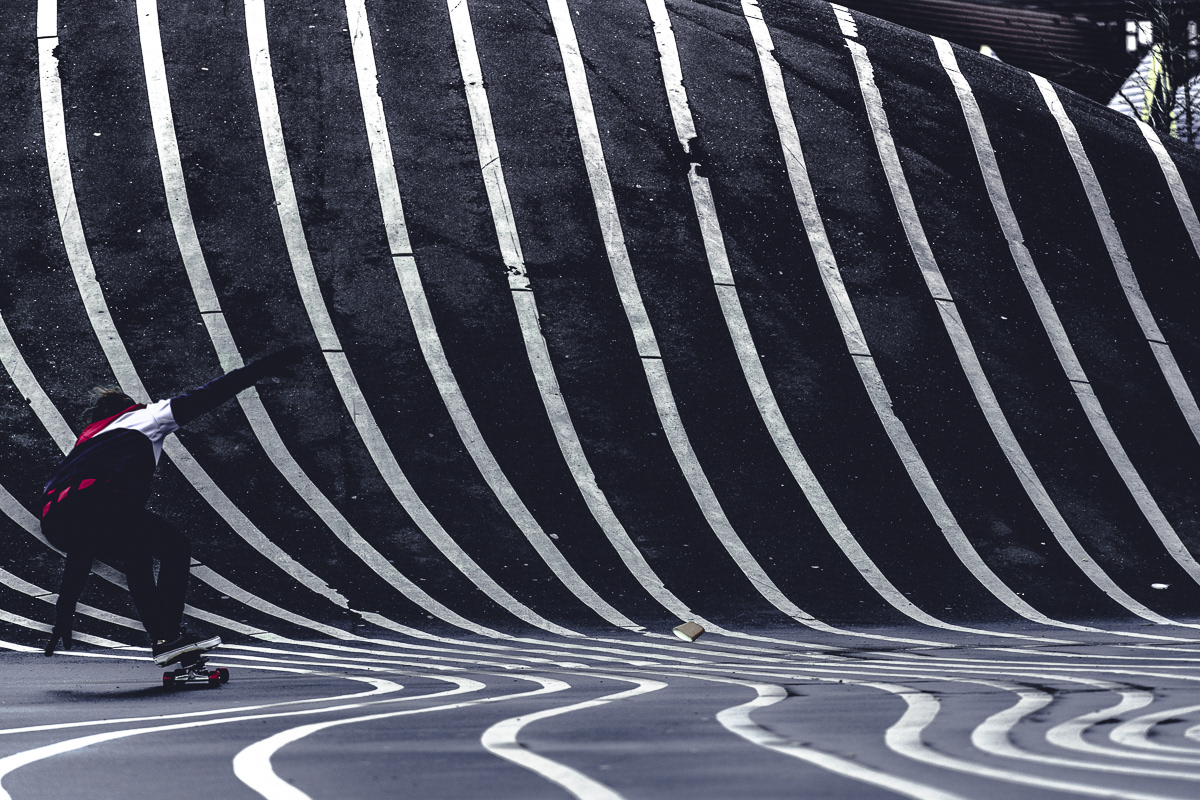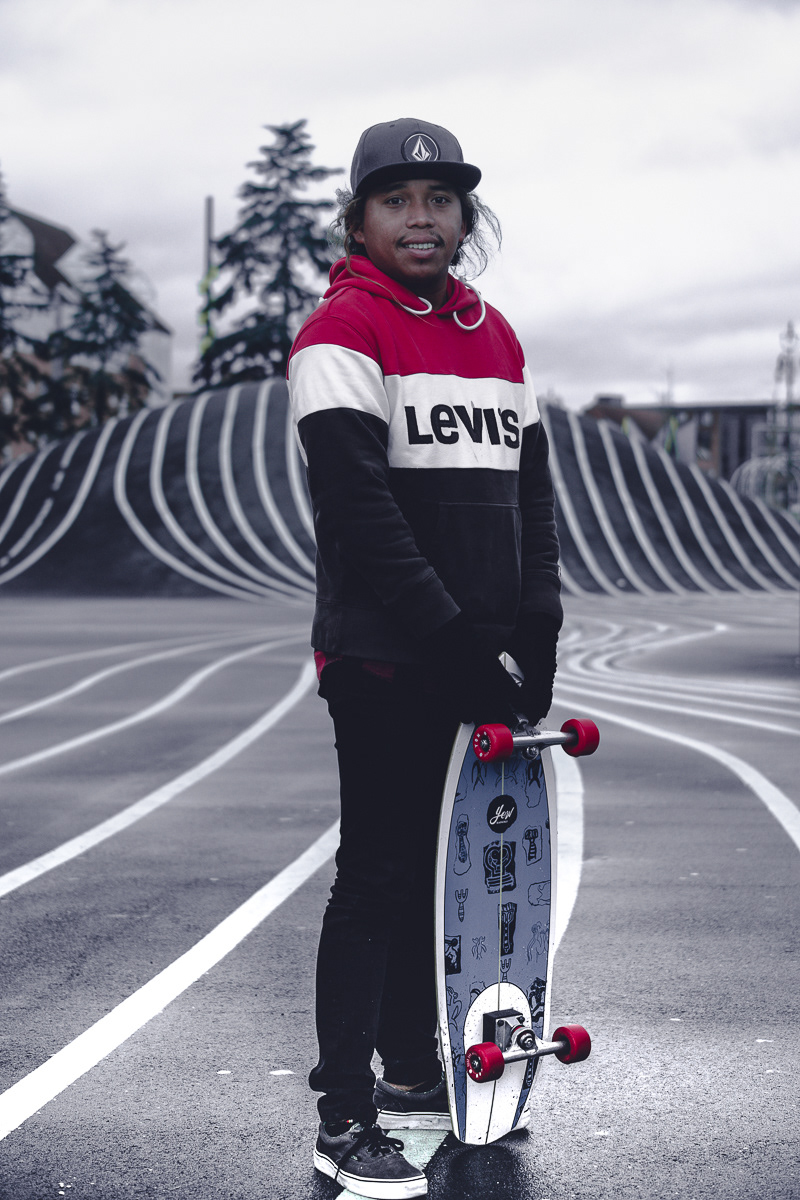 Making my way through the urban park, I caught Otak flying by on his skateboard with no one else around. Maybe wet and cloudy days may be the best for joy riding alone, I thought to myself as I was walking by and getting a feel for my new home, the neighborhoods of Copenhagen. 
Otak is originally from the Philippines, he told me, one of almost 9,000 immigrants who have arrived in Denmark. Being an immigrant in Superkilen, he is an emblem of the place. 
The park is meant to celebrate diversity, representing the different nationalities living in this part of town. It is filled with objects from around the globe, designed as a kind of world exposition for the local inhabitants, covering over 60 nationalities, who have contributed their own ideas and artifacts to the project. There are swings from Iraq, litter bins from England, benches from Brazil, and a fountain from Morocco. It
 is a part of an urban improvement plan that not only makes the place better but also welcomes everyone and creates an inclusive and homey space. Outdoor hygge, one could call it.
You see the intentions of the designers and planners when they created a symbiosis of design and cultural elements that reflect co-existence. And not just to live together but to thrive together.  We are different yet we are all the same human beings.  We are all global citizens and we share one resourceful planet.  Cities can be built and designed to be more inclusive and more impactful for many more of its inhabitants through a high level of intentionality and sensibility in urban design, city design and planning.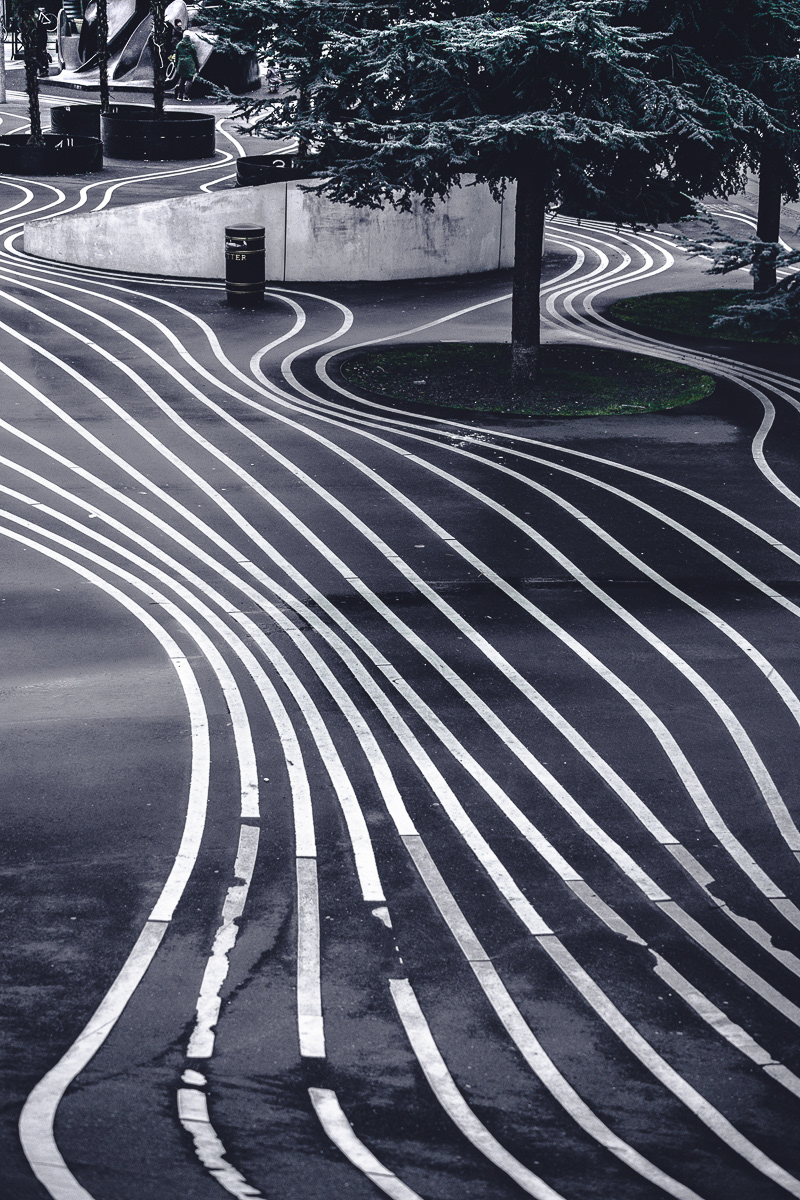 Once here you know that you have definitely arrived to a dynamic part of Copenhagen filled with many cultural influences and people from all over the world.  Nørrebro is also where many of the hip and creatives come to enjoy the many skateparks, graffiti murals, vintage shops, stylish boutiques and urban parks. This multi-ethnic and cultural community sits at the edge of northwest København and it encompasses almost 60 nationalities. For food there are plenty of kebab joints, indies shops, cafes and late-nite bars along the side streets.  Some parts remind me of Williamsburg, Brooklyn or Soho with its raw and gritty feel to some of the buildings and neighborhoods. The scale is similar in terms of heights of buildings and width of streets.  Art is expressed everywhere and I can see the voices from the community in the graffiti and art work spread through out.  You can find these really cool shops hidden off of Nørrebrogade a
nd on J
ægersborggade.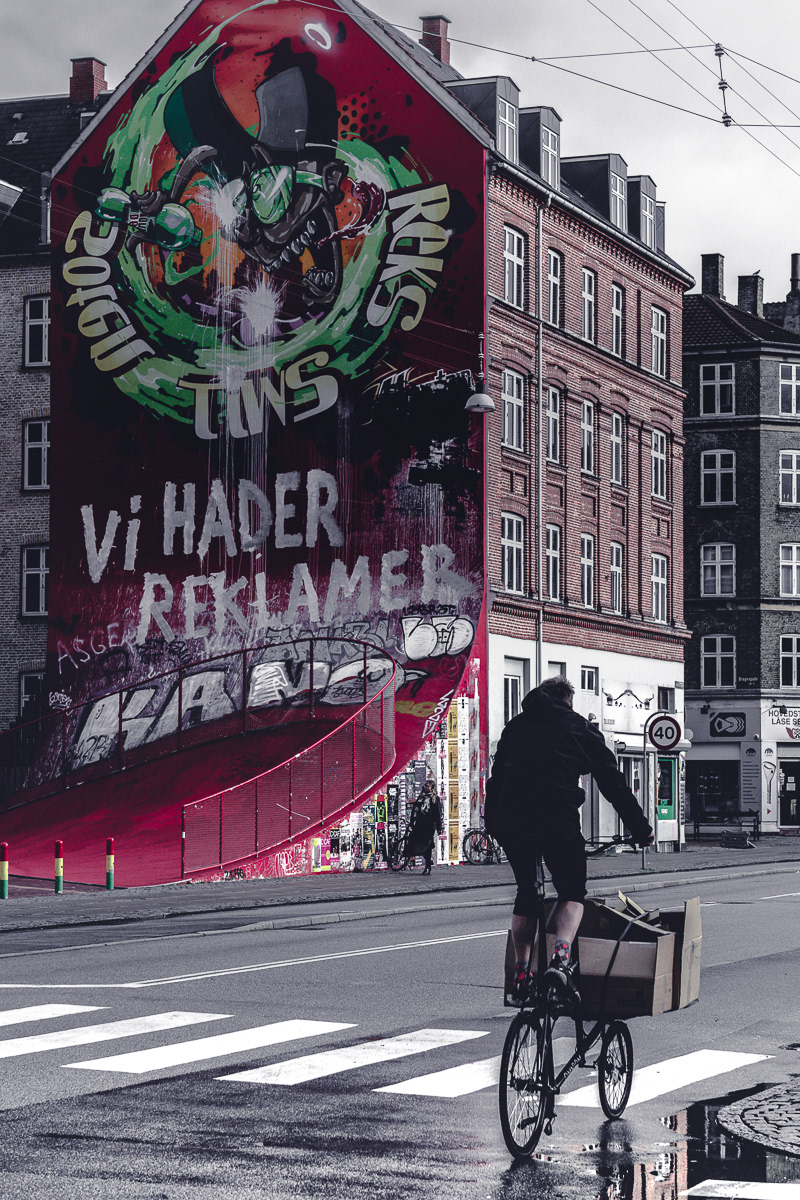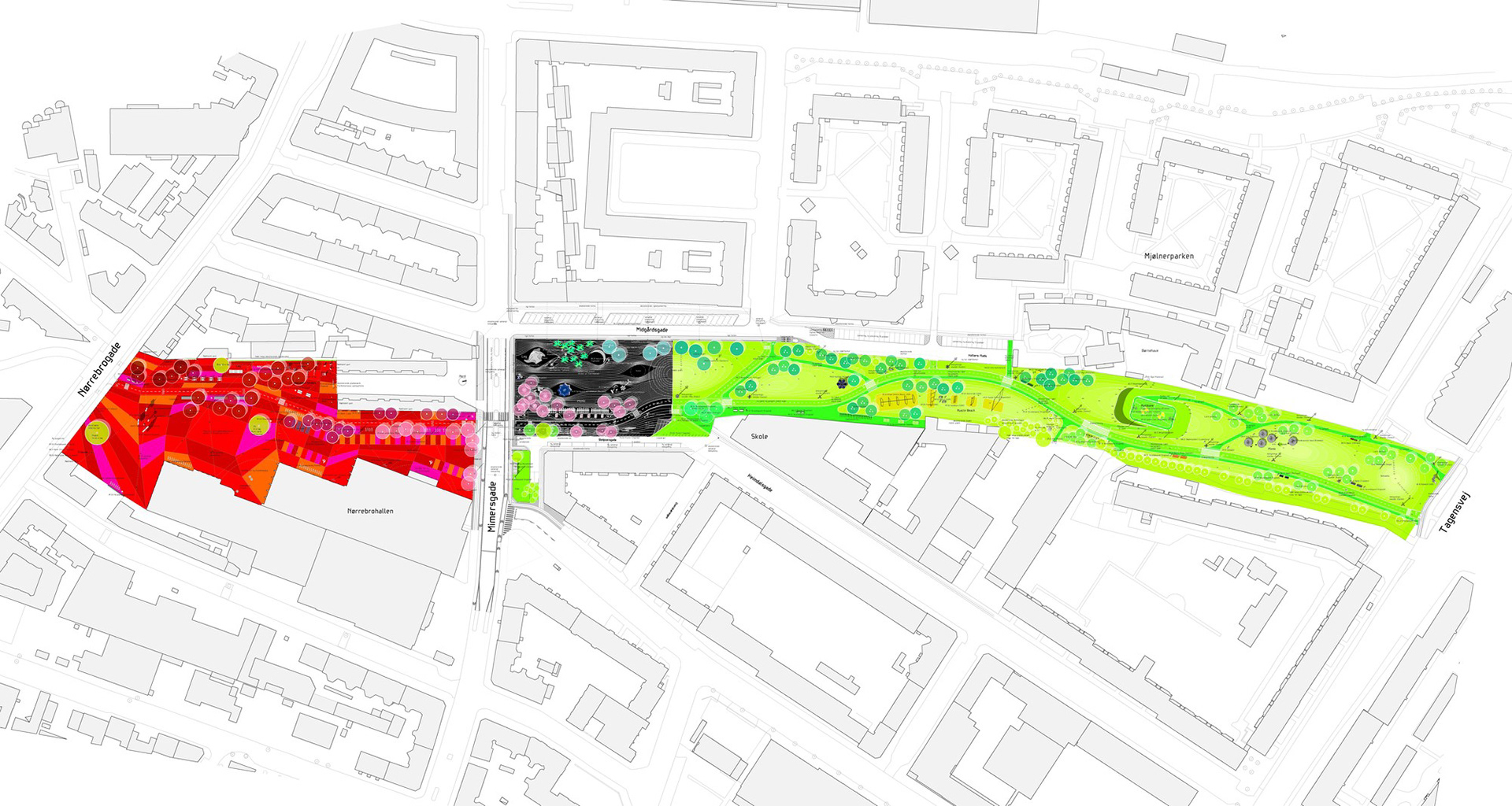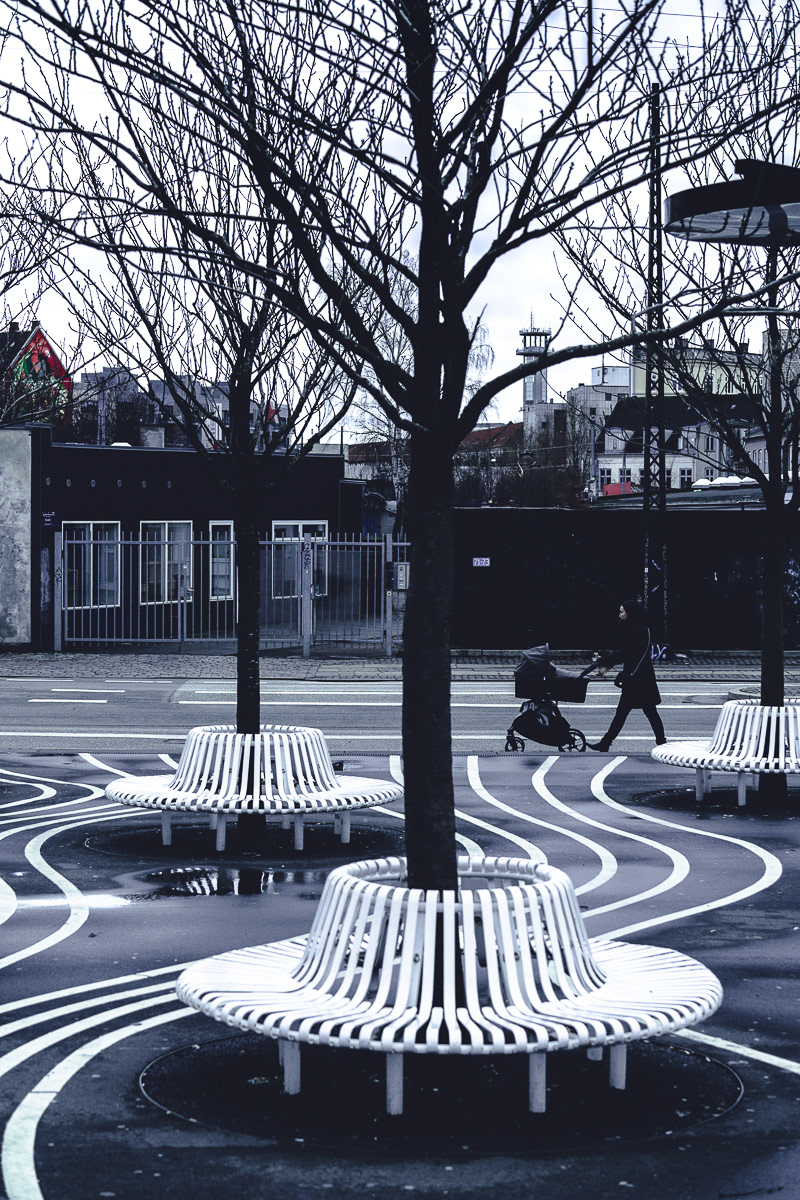 http://www.kobenhavnergron.dk/place/superkilen/
https://www.visitcopenhagen.com/copenhagen/superkilen-park-gdk707822
https://en.wikipedia.org/wiki/Superkilen
https://www.archdaily.com/286223/superkilen-topotek-1-big-architects-superflex
https://superflex.net/tools/superkilen/image
https://big.dk/#projects-suk
https://www.topotek1.de/openSpaces/superkilen-2/
Please add your comments and thoughts below,
(*comments are direct messages to me and are not public)
Thank you very much! I look forward to continuing the conversation.
________________________________________________________________________________________
"Sunrise on the High Line"
The High Line Park in Manhattan by James Field Corner Operations, Diller Scofidio + Renfro, and Piet Oudolf.  Project was initiated and founded by Friends of the High Line.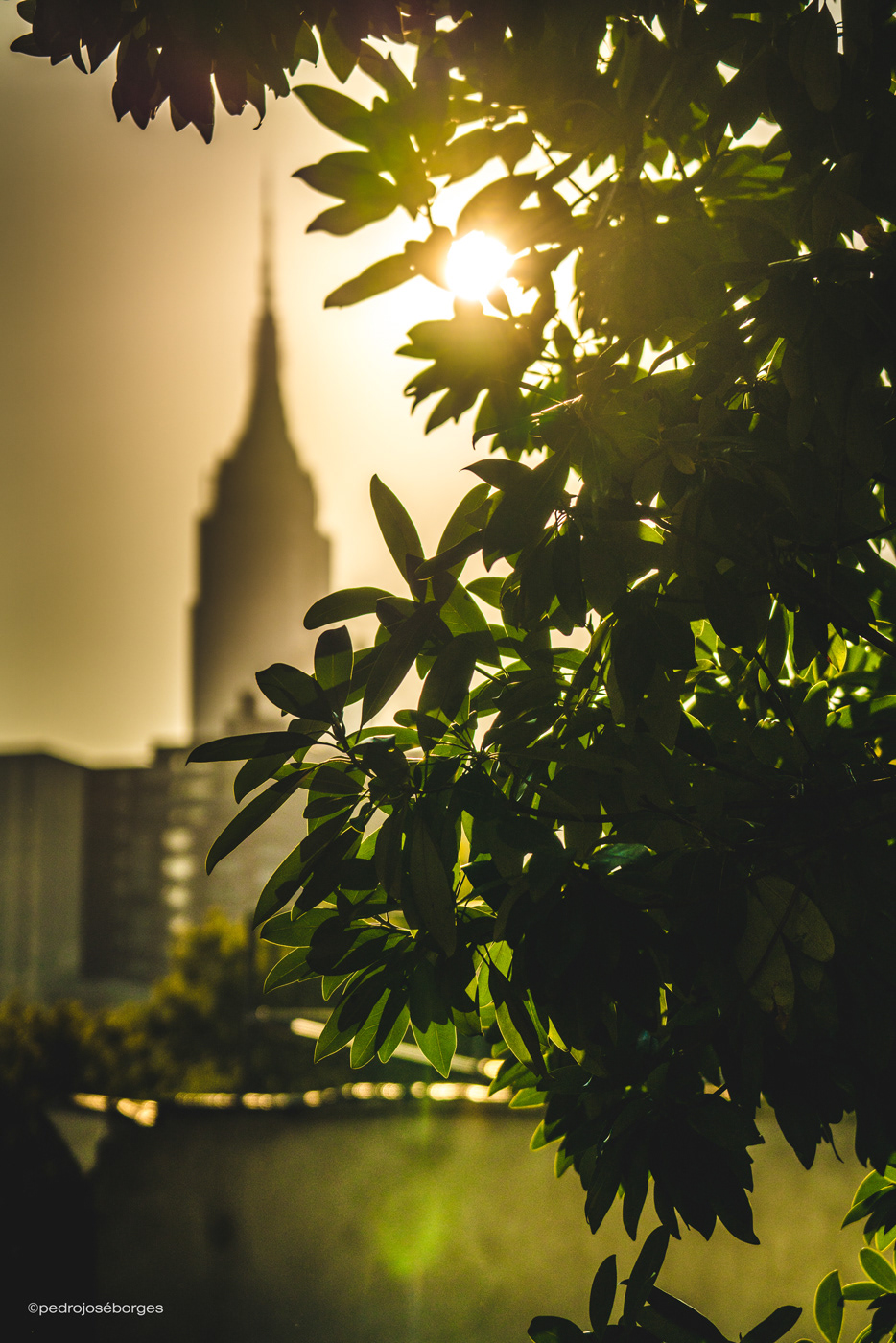 Location: West Side of Manhattan, New York City
Construction: Phase I, 2009; Phase II, 2011; Phase III, 2014
Total Area: Linear 1.5 miles (2.33km) of Railway Viaduct
Sphere of Influence: Landscape Architecture, Urban Design, Urban Park, Ecology
Programme: Urban renewal, Reuse & Repurpose of the abandoned New York Central Railroad viaduct
Multifunctional linear park that serves as public space for art, installations, exhibitions, peace and solace.
Designed by:
James Field Corner Operations, Diller, Scofidio + Renfro and Piet Oudolf 
​​​​​​​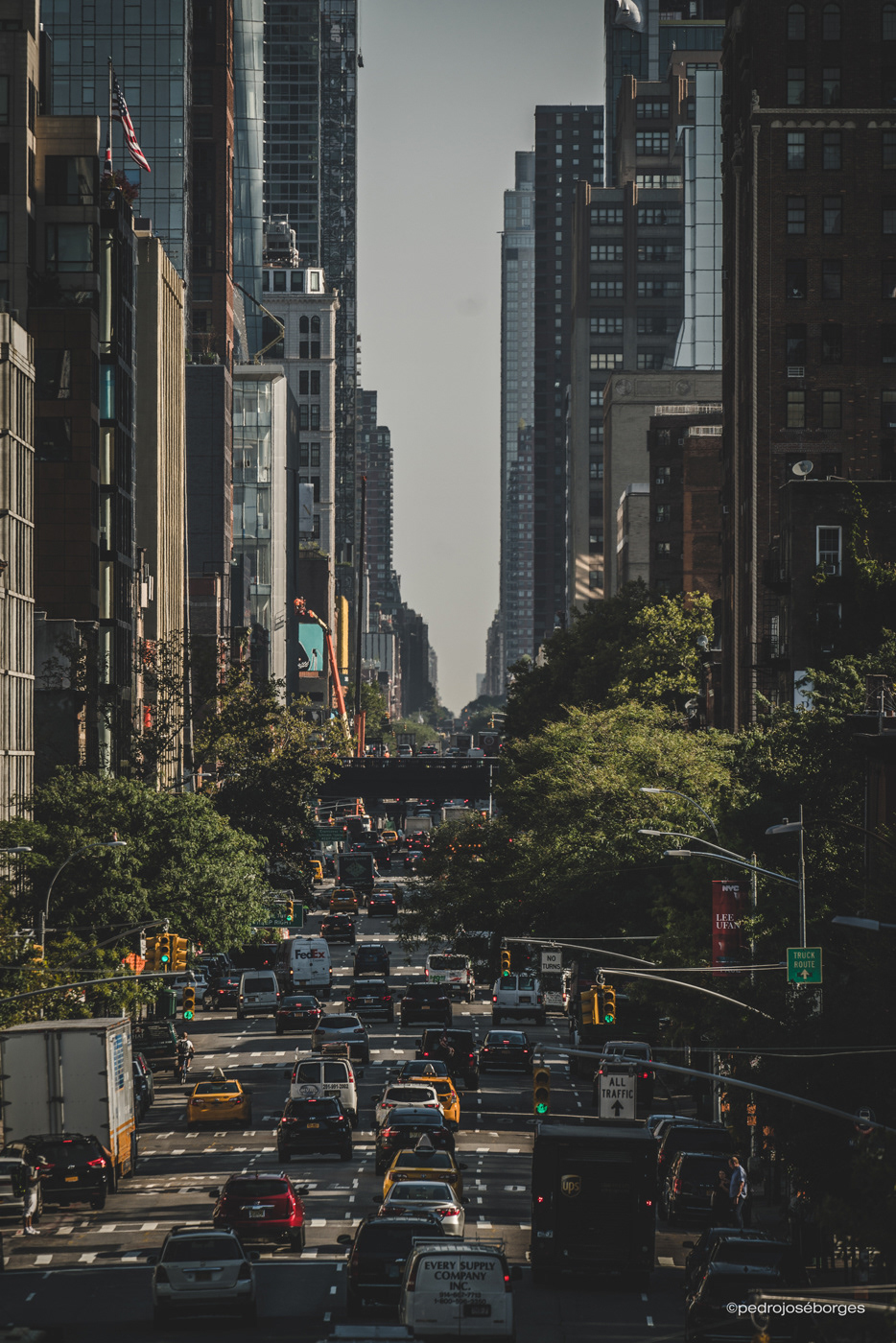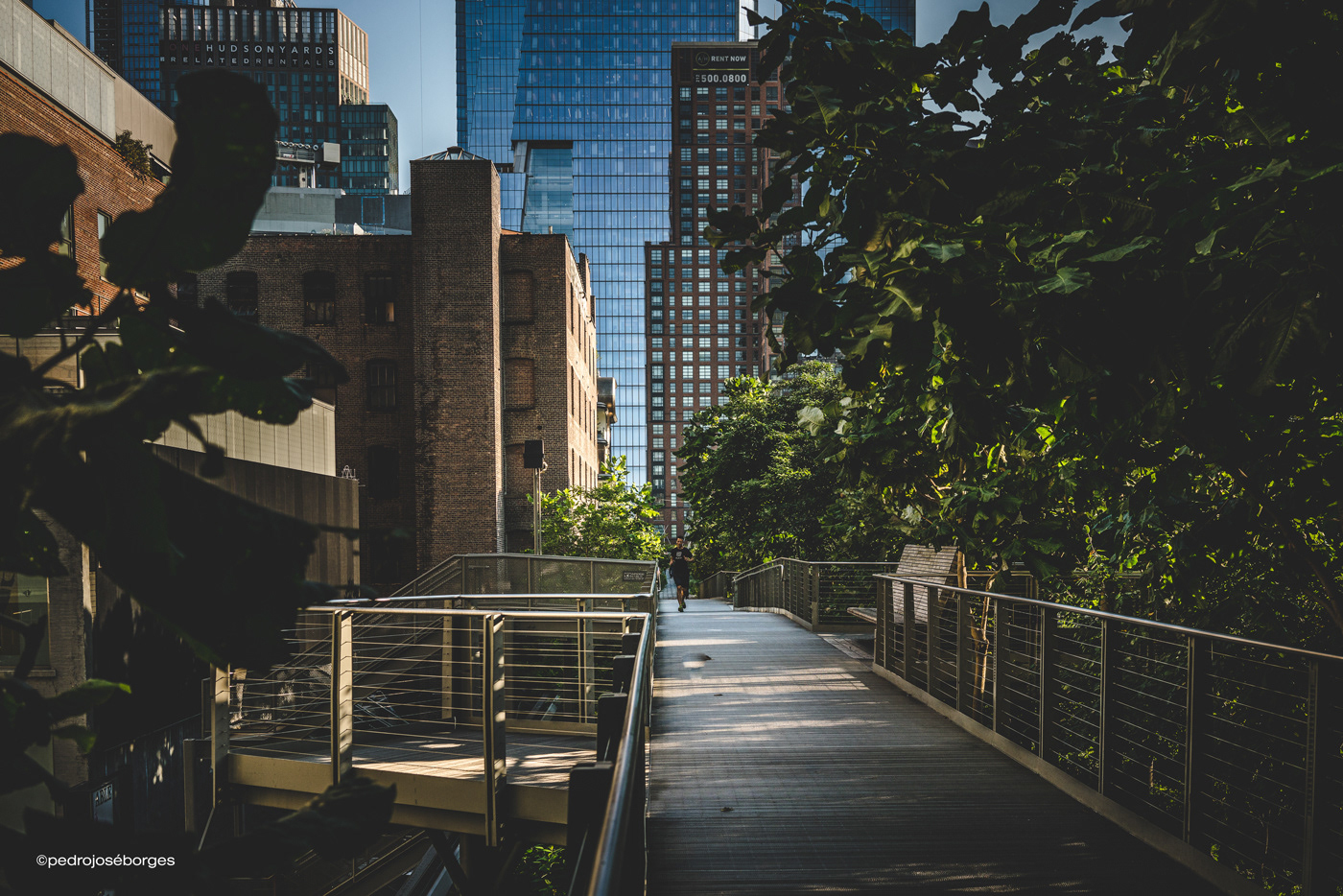 Elevated Linear Park,  Greenway and Rail Trail
Approaching the High Line around 7 in the morning to the sounds of the ongoing construction at Hudson Yards on 31st Street I was hoping for some quiet and a lot less people. New York is fully awake already. In midtown Chelsea the hustle and bustle of the city intensifies. Along 10th avenue sirens are wailing and the horns of the yellow cabs sound off and truck drivers waving each other by.  On 30th street I find my escape. I climb the entrance stairs to the elevated public linear park and leave behind the morning chaos. I find myself in the middle of a more breathable morning routine.  A few runners pass me by while I meander past the manicured array of Foxtail Lillies. I finally found my quiet place, sipping my dark roasted coffee and feeling the sun rays on my face.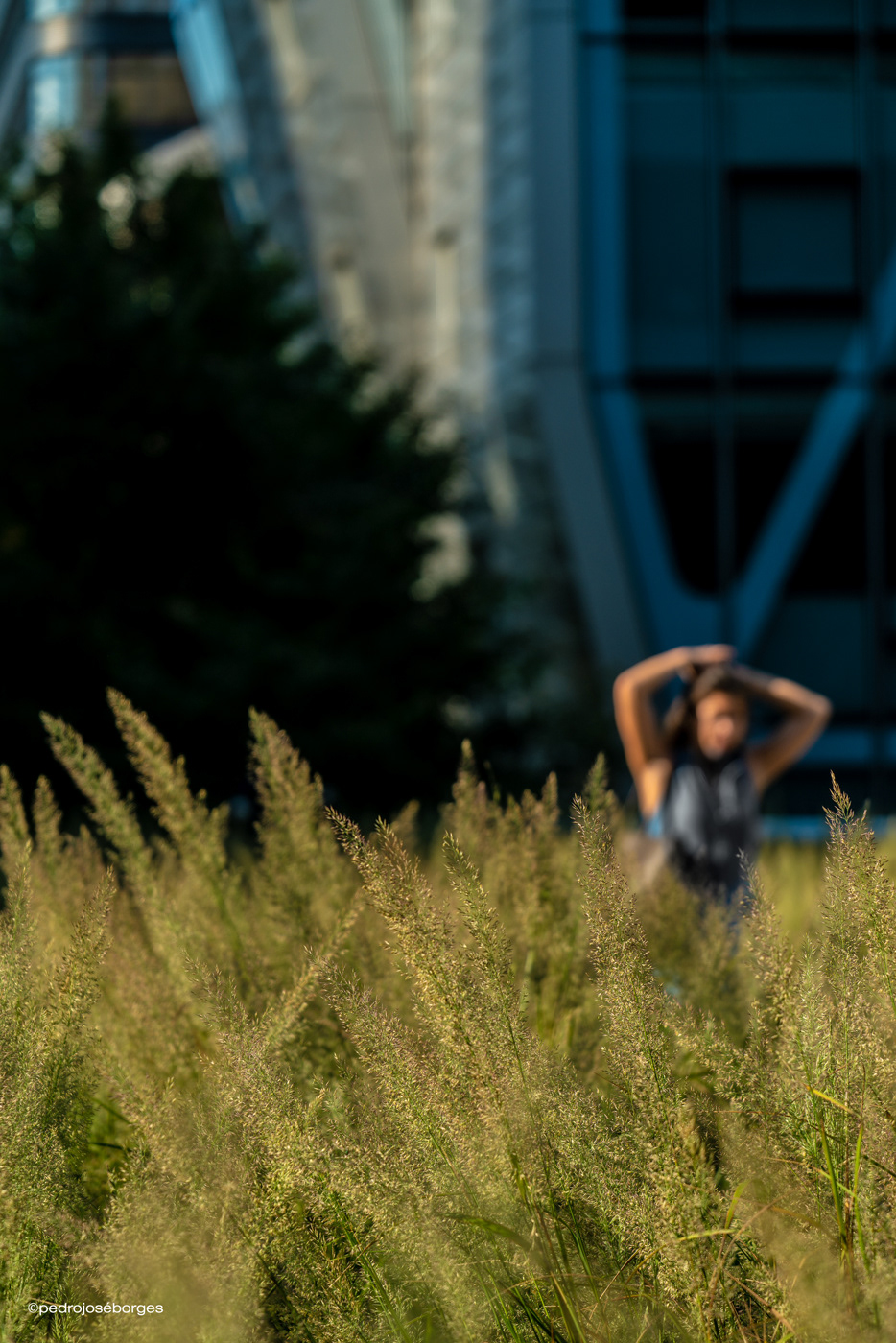 ​​
Once on the elevated park I can't help but notice the quiet, calm and peace of the surroundings.  Though in the middle of Chelsea, the West Side of Manhattan, the vantage point of just 30 feet (9m) above ground gives you an opportunity to experience the city in a very unique way.  Visually your eyes carry you further into the city along the east/ west corridors towards the architectural icons that continually remind you of quintessential New York. While strolling around in this haven I am no longer concerned with the proximity of other pedestrians or vehicles passing by.  My ears are tuned in to the sounds you would normally hear in a park, yet you are above a city, almost floating.  Birds are whistling while the squirrels are wresting and rustling through the Prairie Dropseeds. T
his utopia in the sky lends itself to the imagination of its founders at the nonprofit organization Friends of the High Line and their partnership with the city of New York Parks Department.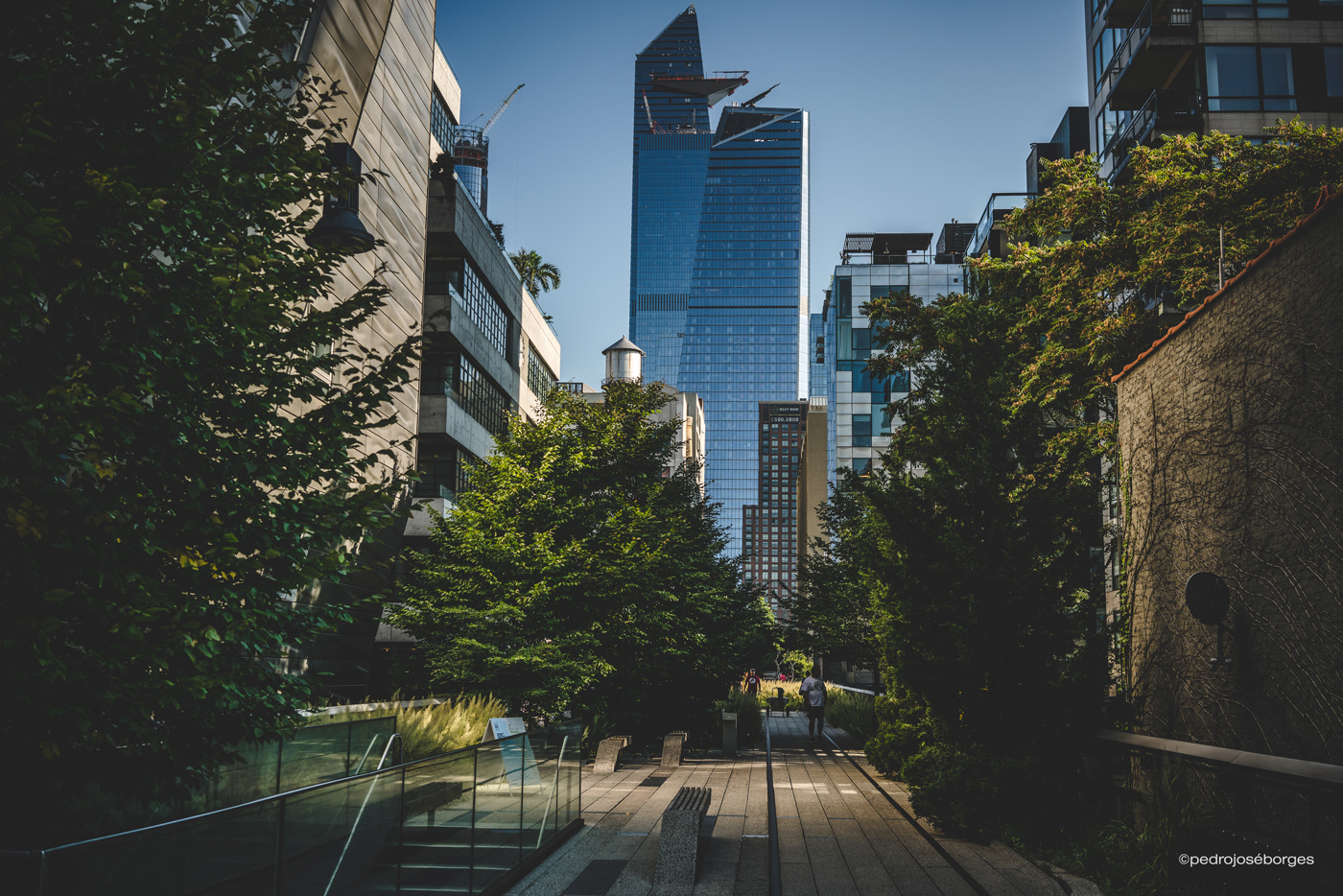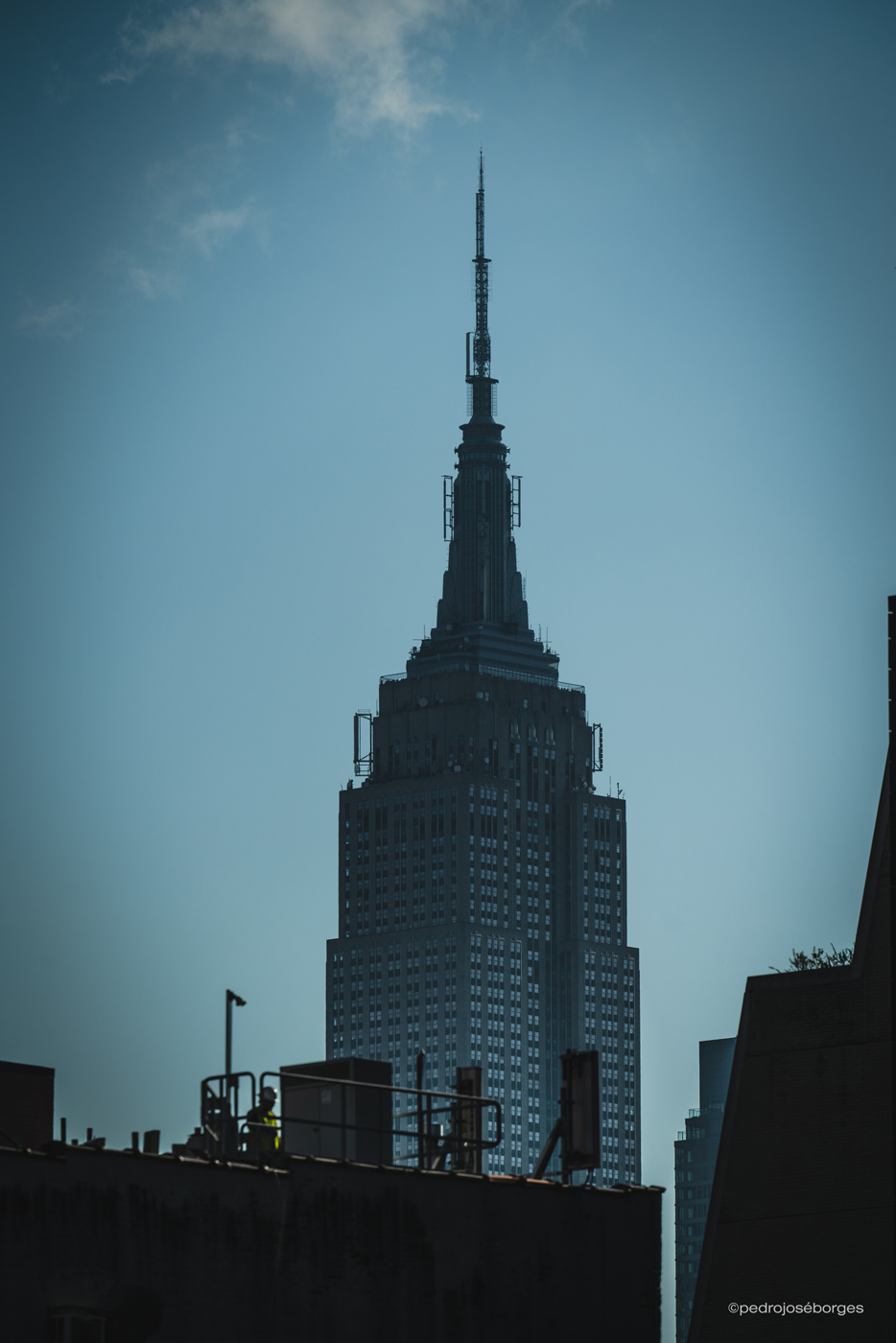 oasis
​​​​​​​​​​​​​​​​​​​​​
The park is built on the abandoned southern viaduct section previously called the West Side Line. "The first freight train on the High Line viaduct, part of New York Central Railroad's West Side Line, ran along the structure in 1933. The elevated structure was dedicated on June 29, 1934, and was the first part of the West Side Improvement Project to be completed. The High Line, which originally ran from 35th Street to St. John's Park Terminal at Spring Street, was designed to go through the center of blocks rather than over an avenue; as a result, the viaduct's construction necessitated the demolition of 640 buildings. It connected directly to factories and warehouses, allowing trains to load and unload inside buildings. Milk, meat, produce, and raw and manufactured goods could be transported and unloaded without disturbing street traffic" (wikipedia).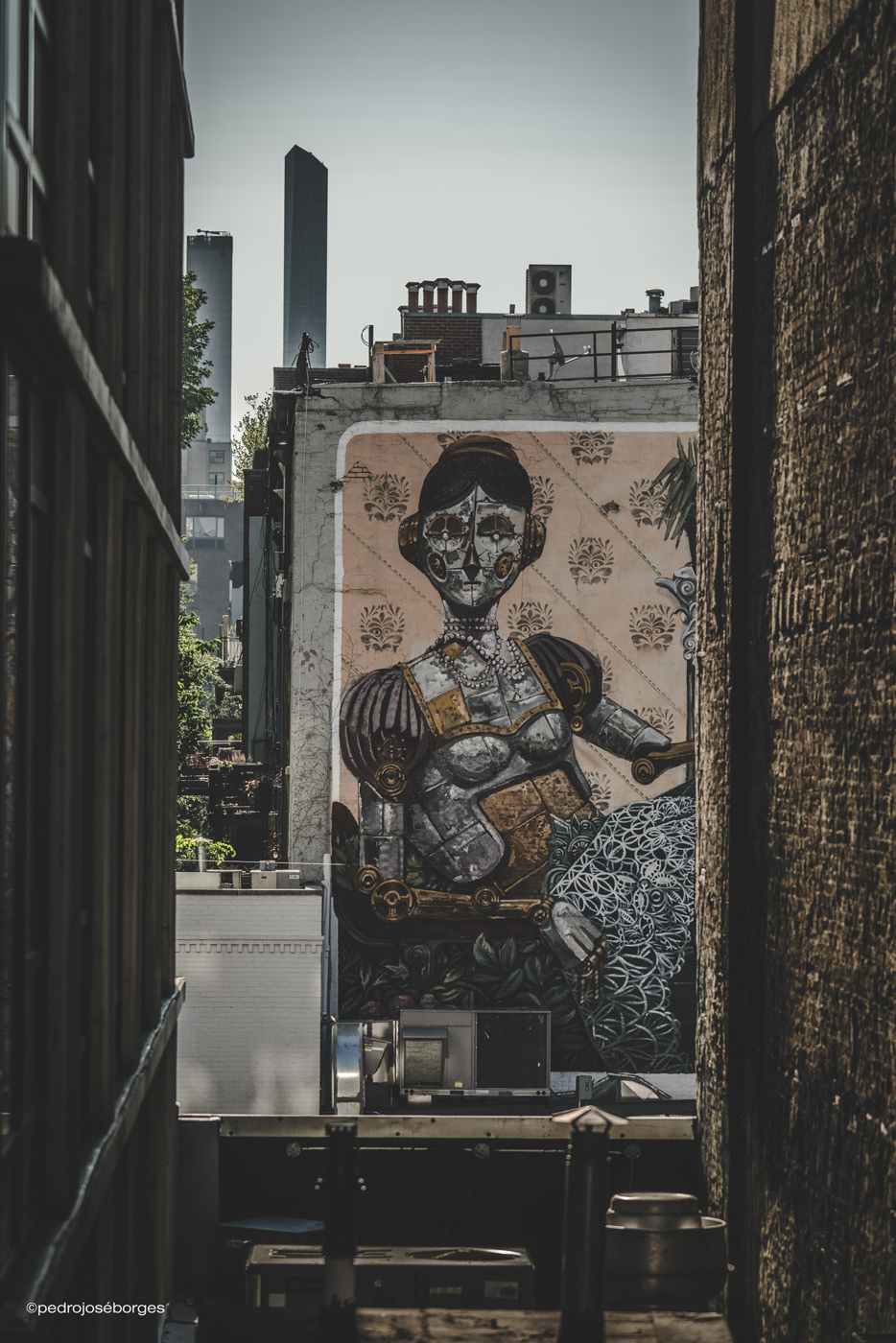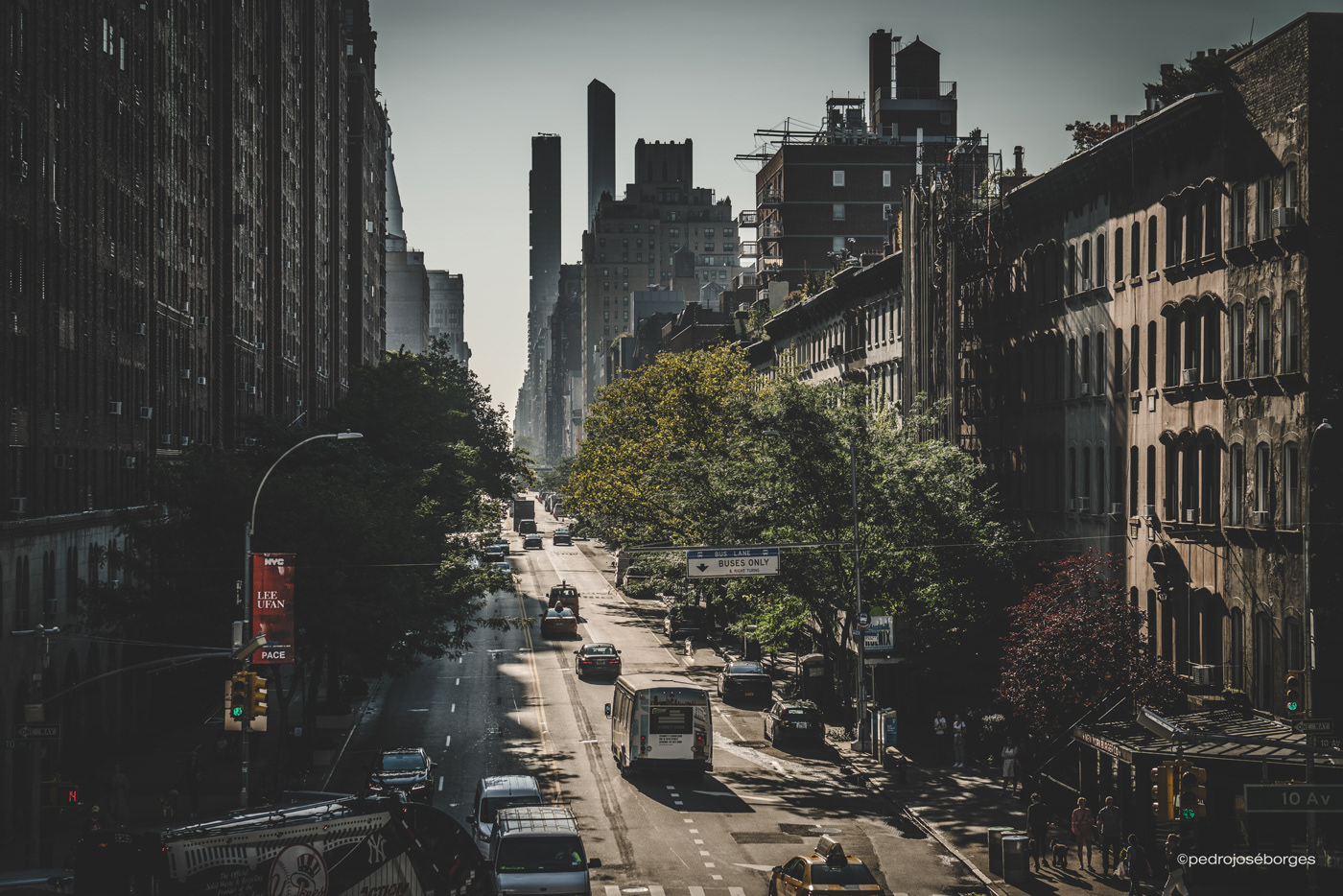 The High Line finds its inspiration from the 3 mile long (4.8km) Promenade Plantée in Paris, built in 1993. Restoring and repurposing the abandoned New York Central Railroad viaduct has been vital in inspiring many other cities to revisit and rethink their own existing unused infrastructure as publicly accessible space. With many of these abandoned areas near waterfronts and in central locations, its a wonderful opportunity to bring much needed life and infuse people first design of the public realm.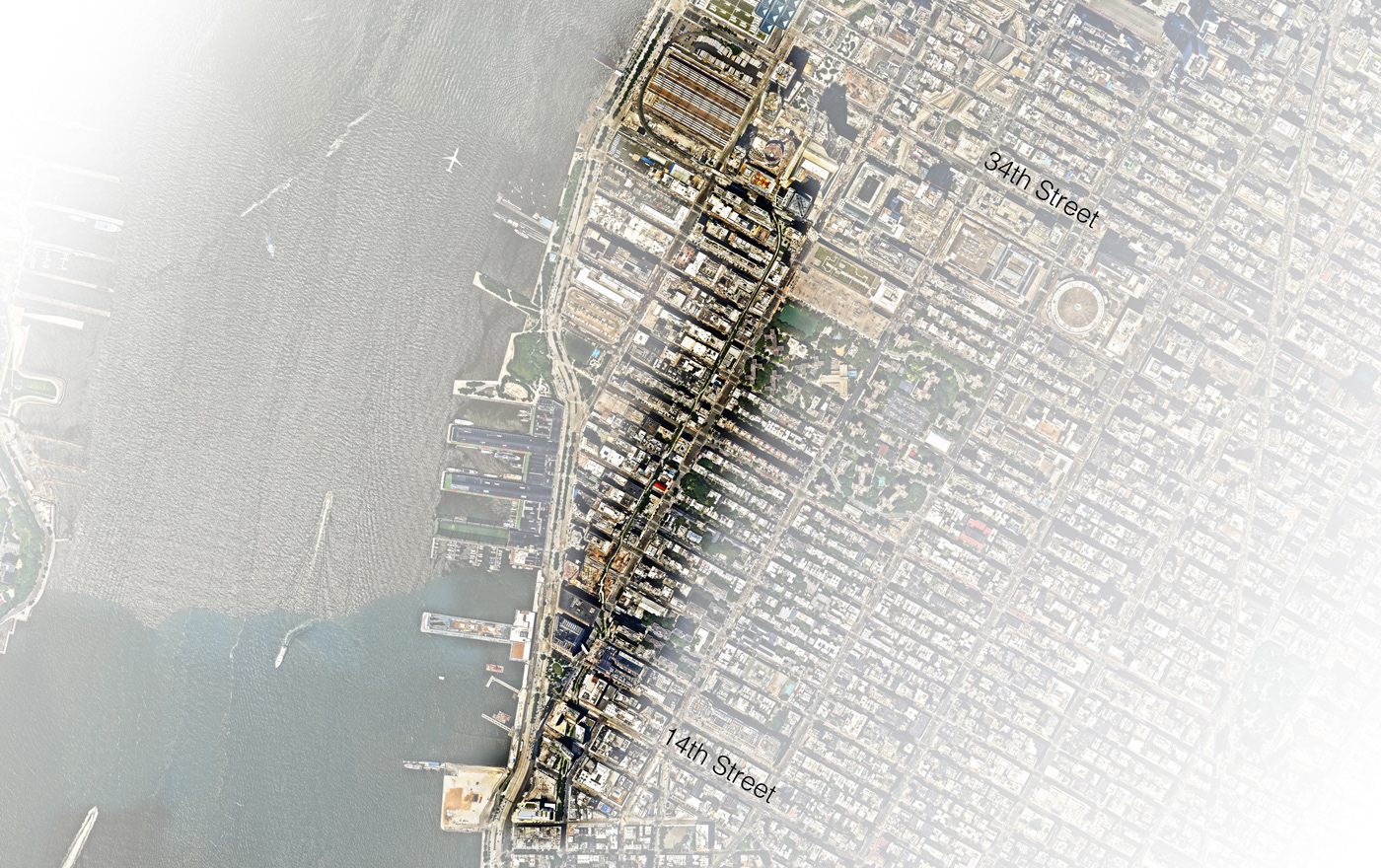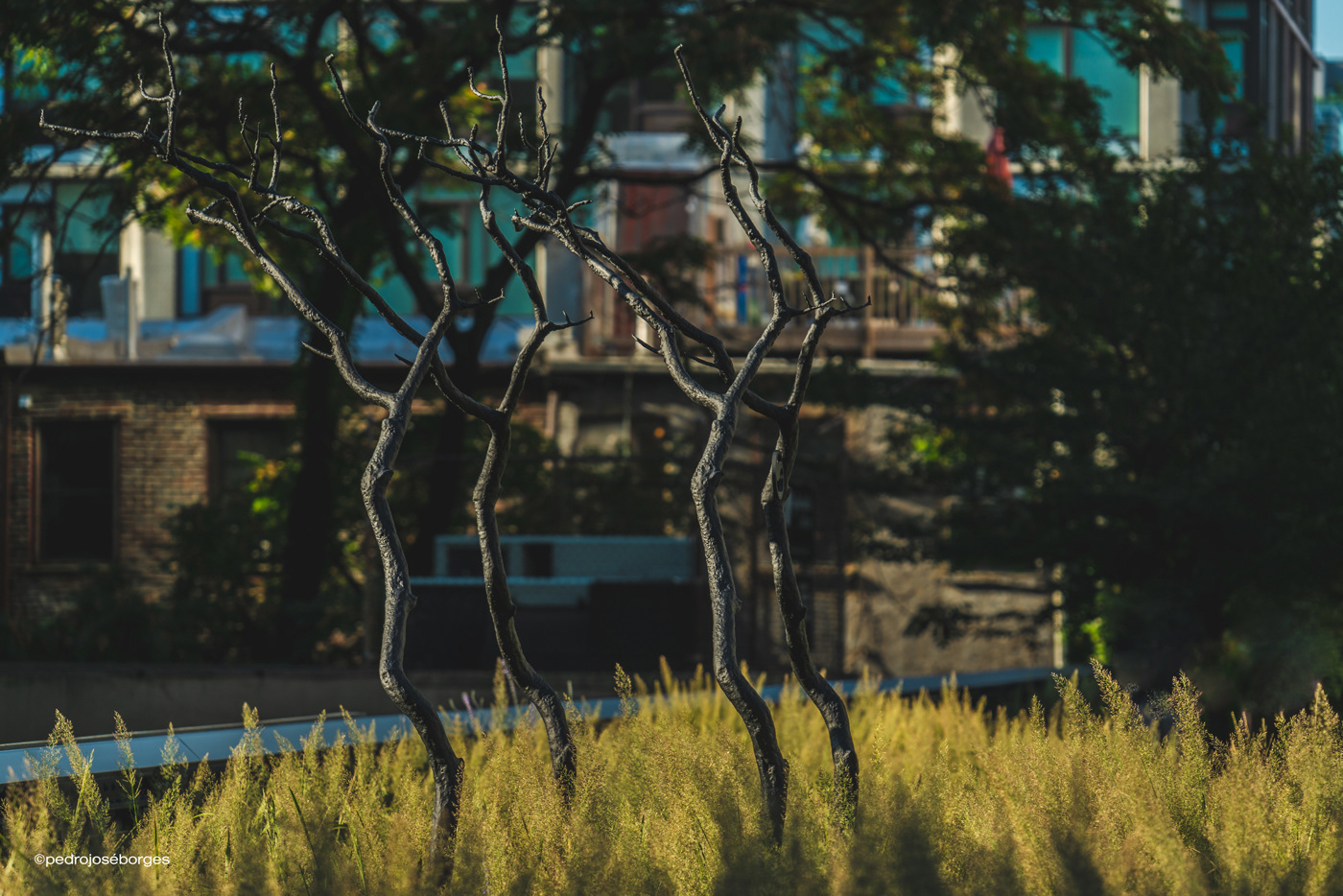 In loving memory of a great human being, dear friend, studio partner, architect and urbanist,
Columbia GSAPP '10. (Taller Bombay)
Y
ou left us way too soon and you will be missed. 
Please add your comments and thoughts below,
(*comments are direct messages to me and are not public)
Thank you very much! I look forward to continuing the conversation.
________________________________________________________________________________________
Museum of History of the Jews in Poland by Finnish Architects Lahdelma & Mahlamäki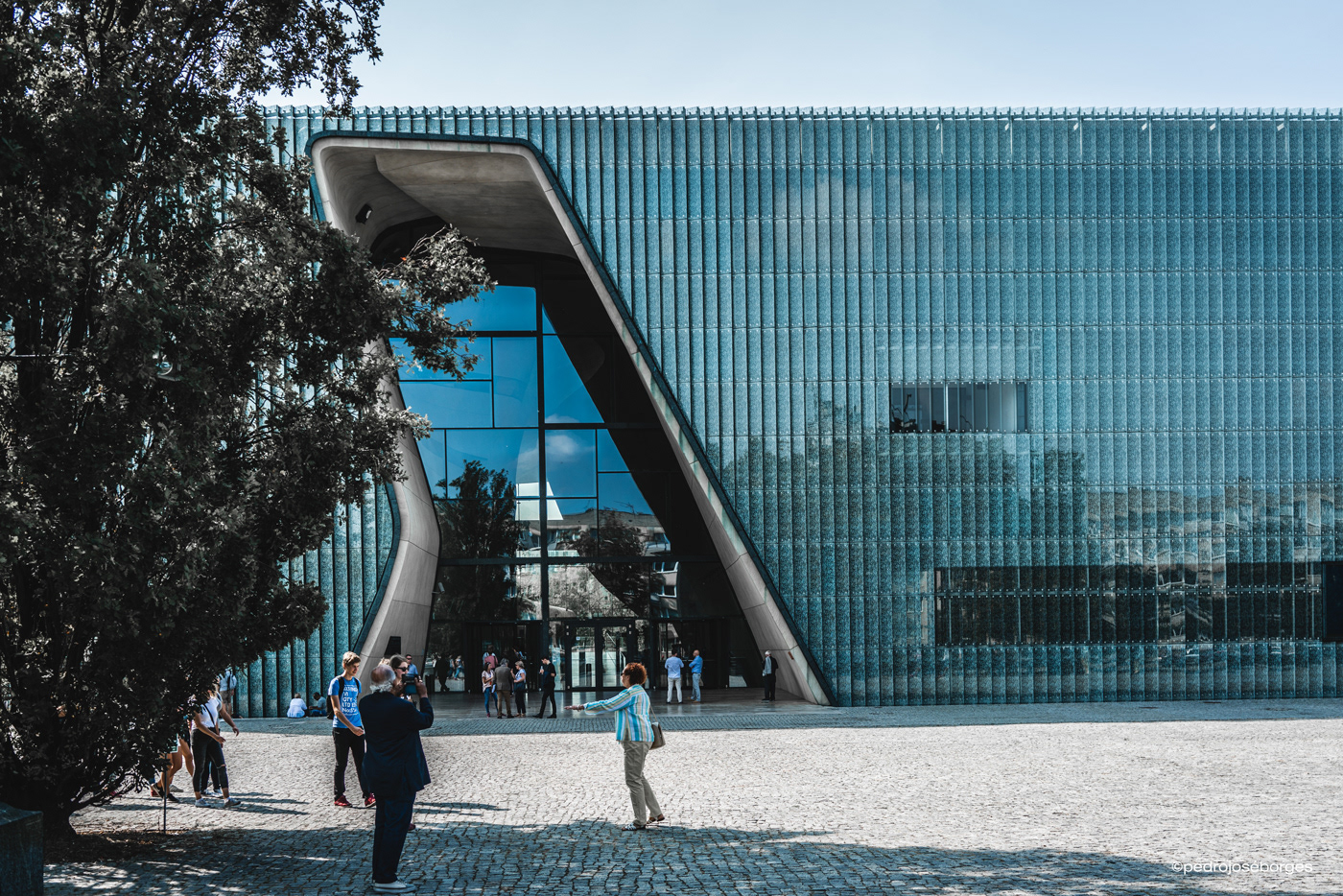 Sphere of Influence: Architecture
Programme: Museum, Cultural Institution 
Multifunctional centre for research, exhibition, education, history, culture
Designed by: Lahdelma & Mahlamäki Architects (Helsinki, Finland)
The Hebrew word means 'Poland' or 'rest here'

 
As you approach the Polin Museum by the Finnish Architects situated in the urban landscape it does take on an unassuming position and quietly sits beside one of the most recognizable symbols in Warsaw, the 'Ghetto Uprising Monument'.  Finnish Architects Lahdelma & Mahlamäki worked to expand on this existing monument and not create a landmark.  They intentionally did not want to impose its footprint on the surrounding park so the form of the building appears as a compact and translucent object in the space. This modest approach which spoke more about the present time allowed the design to welcome and house the past and the future stories of the Polish Jews.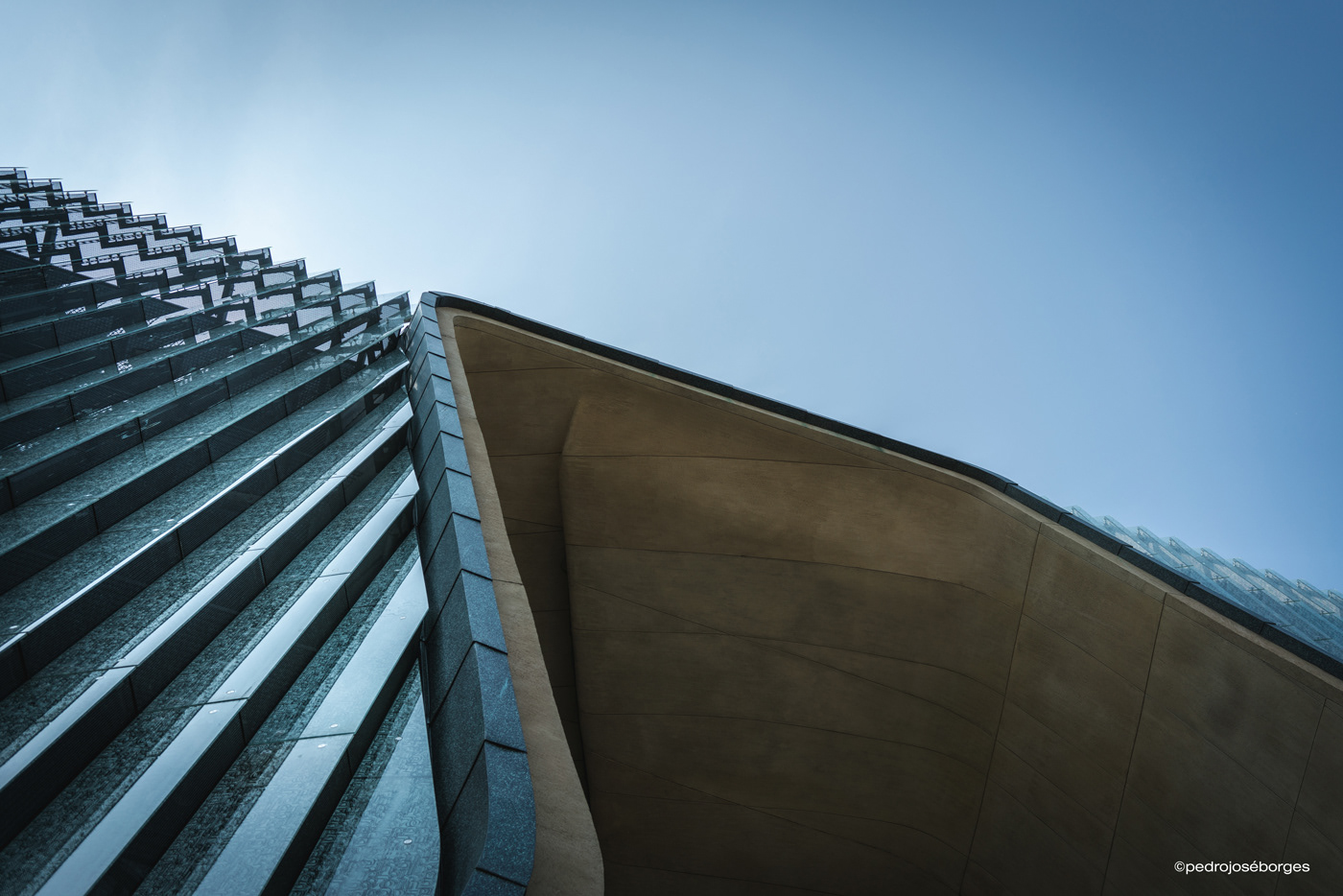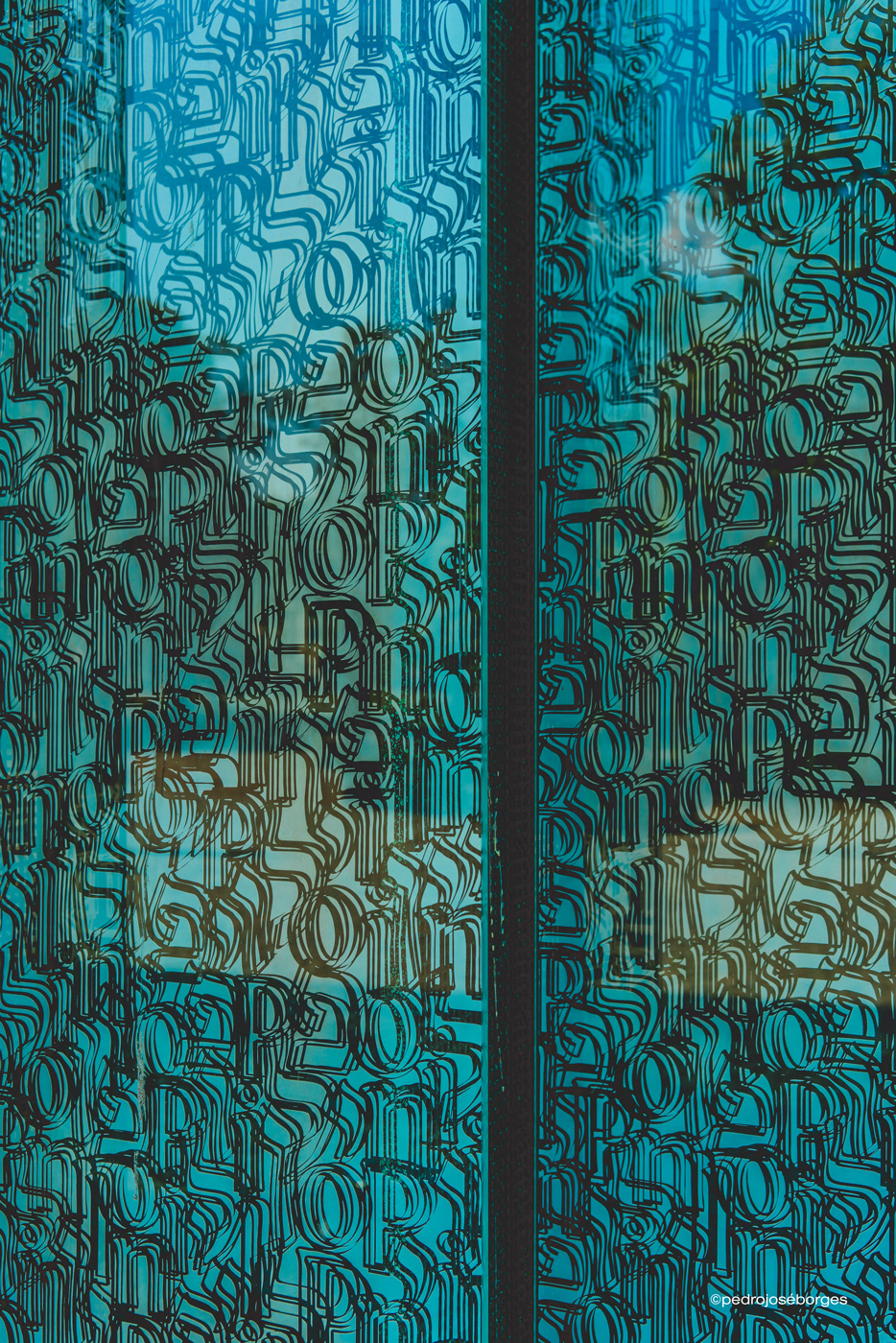 ​​​​​​​
The building envelope is interrupted with the interplay of light and reflections on its staggered panels. As you approach, the sunlit glass panels reveal clusters of silk screened imprinted letters – spelling POLIN in Latin and Hebrew letters. The word translated into English means 'Poland' or 'rest here'.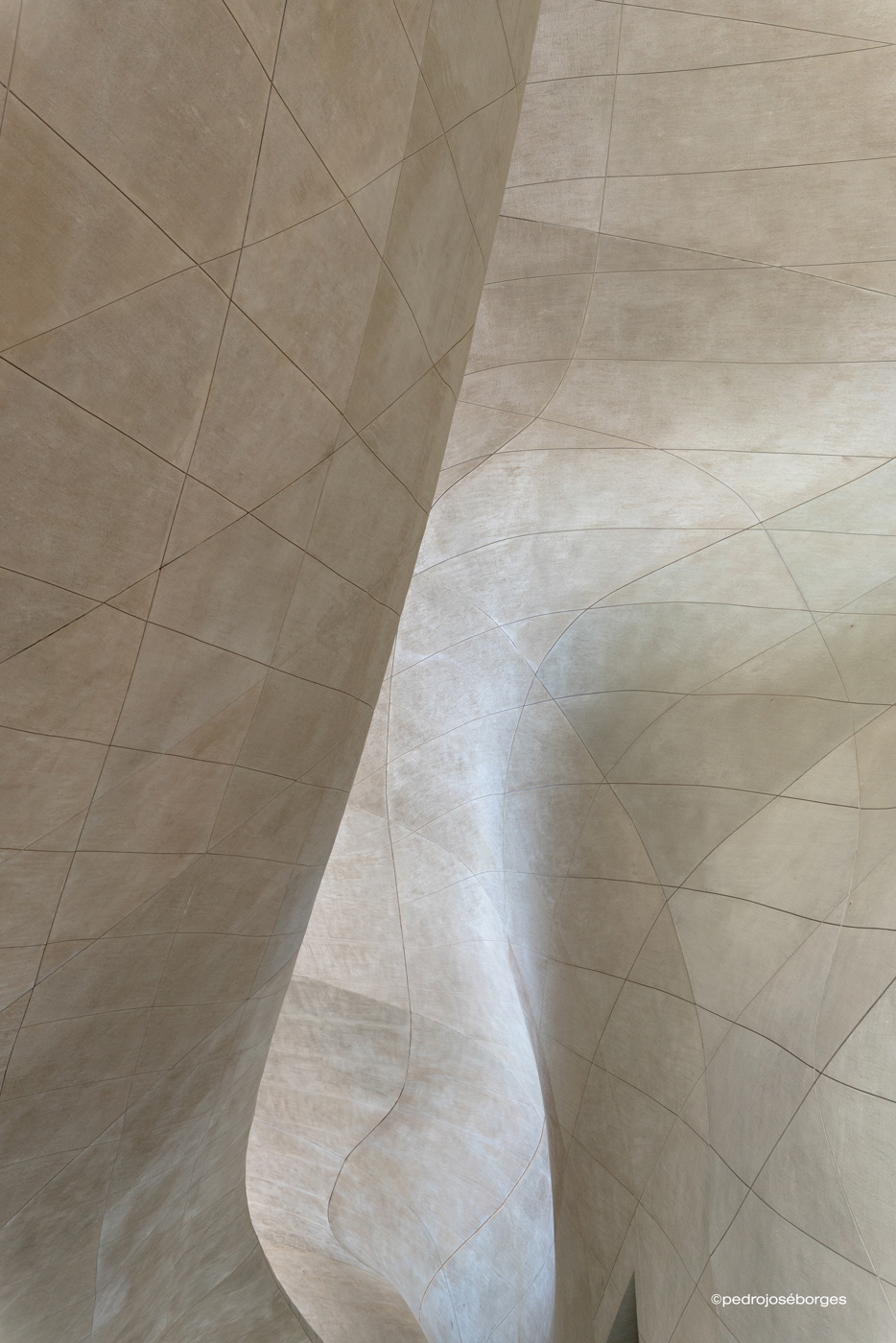 Once your eyes adjust to the fluctuation of light and shadow a welcoming space is uncovered. Walking around in this crafted space the light and shadow begun to play a bigger role in the experiential nature of the museum.  Throughout different times of the day the intricacies of the sunlight shining on the walls reflect more and less.  The views become clearer inside and outside.  This massive "spider-system glass wall" on the western facade of the building then opens up and clears the view towards the Warsaw Ghetto Uprising monument.  You are allowed to feel a sense of peace and silence and even a sense of wonder.  Similar to when you enter a cave for the first time after a long journey.  This space and all its symbolism is allowed to be experienced in a very personal way.  
​​​​​​​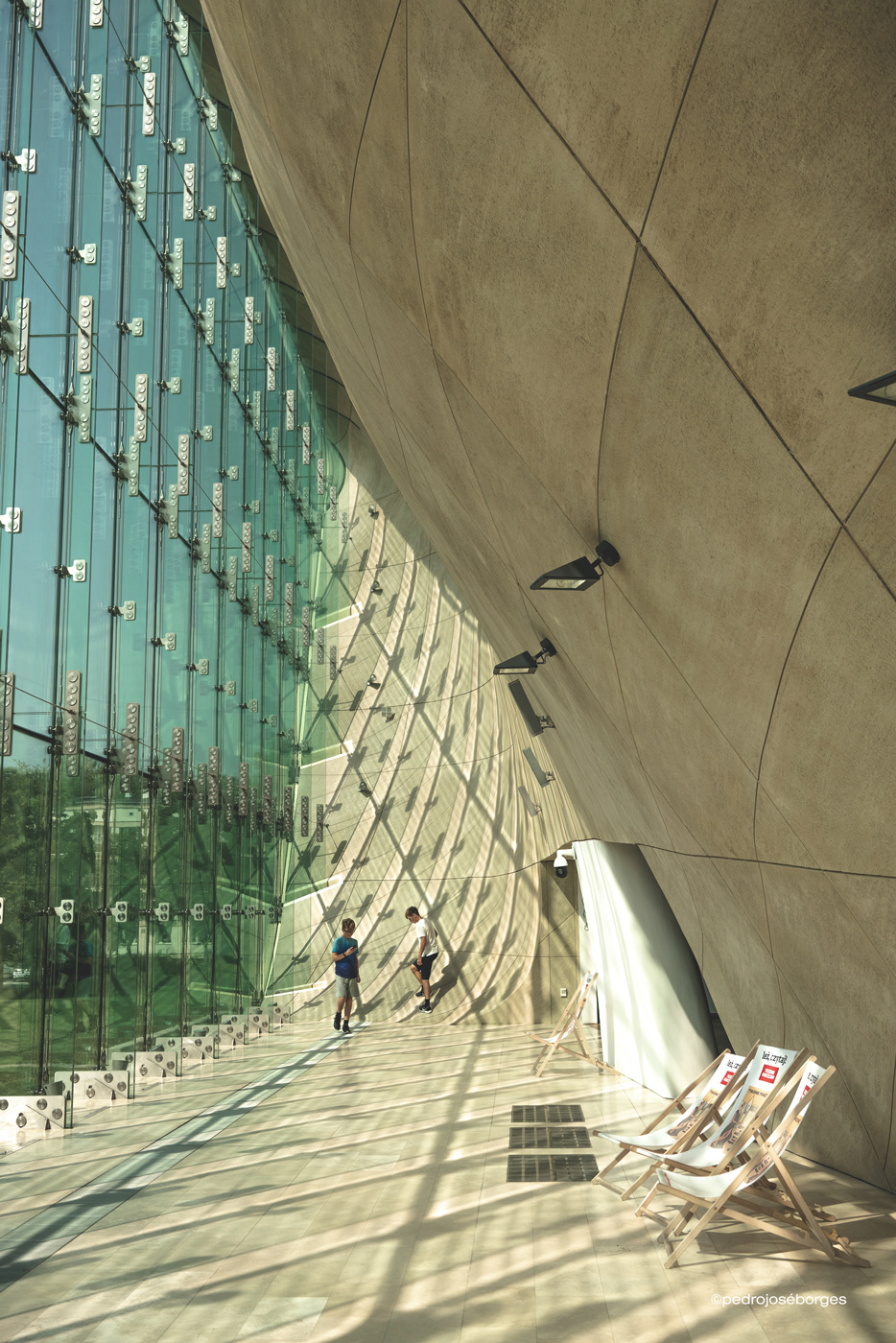 The undulating gorge and cave like entrance invites you in and guides you. Once inside you can not help but glance upon the double-curved walls which are constructed from a load bearing steel frame sprayed with textured concrete and crafted to appear as if they were soft sandstone. This technique required the expertise and technical skills of the local contractors and the local architects Kurylowicz & Associates. The result gives a clean and almost natural feel while symbolizing "Hope and Beauty".